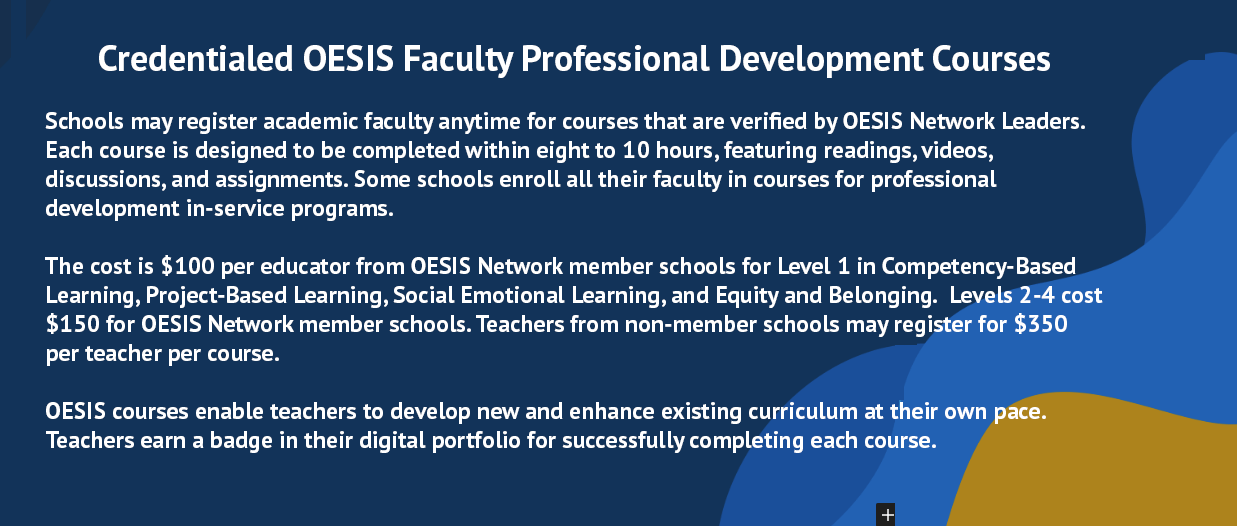 You may use this form and we will invoice you, or email us for more information.
We find that the most effective programs provide the opportunity for faculty to do the work in small groups where there is collaboration and discussion.

Learn more about how we can customize professional development for your school's faculty in-service program.
OESIS foundational courses are offered at four sequential levels:
| | | | |
| --- | --- | --- | --- |
| | | | |
| Level 1: Introduction frames the ideas and builds the background knowledge and common terminology to help teachers understand the purpose of the pedagogy. | Level 2: Developer guides teachers as they develop curriculum for a course or unit that builds the desired student-centered classroom and competencies. | Level 3: Practitioner course asks teachers to solicit feedback from peers, students, and administrators in refining and revising a course or unit they have taught for at least a year. | Level 4: Mentor takes teachers through the process of becoming mentors to fellow faculty at their school. |
Foundational Courses
Project-Based Learning
Most classrooms today are still focused on the essential content that educators feel students need to "know" and "learn." However, research has consistently shown that students are more successful, and remember more, when they are given agency and choice. Knowledge and understanding are only built when students do something with, and can transfer, what they have been asked to learn. When students are presented with topics they understand to be relevant and meaningful to the lives they will lead, they are intrinsically motivated and more engaged. Using the principles of backward design as a foundation, this Pathway begins by clearly defining the characteristics of PBL and the misunderstandings associated with this flexible and student-directed approach to learning almost any subject.

Debunking the myth that PBL is simply a replacement for a test at the end of a unit, we emphasize the importance of redesigning content and skills in the form of a longer-term project that is driven by a big question and results in a public performance followed by a reflection on learning. Heavily driven by formative assessment, the goal is to restructure, but not replace, traditional courses or to create new interdisciplinary courses by posing big questions that define a set of skills and content from the traditional scope and sequence. Because much of the work is student-directed with coaching from teachers, it is a great fit for the blended learning environments that are more common in today's schools.
Competency-Based Learning
Why do we "give" grades? What do the letters or numbers we affix to our students' work mean? For many educators, we calculate grades for students because that is the way we were educated or because we are expected to provide some sort of summative evaluation of our student's work and accomplishments. Nonetheless, many students in a traditional grades environment leave their classes able to do well on tests and papers, but not able to transfer what they have learned and use or apply it in another circumstance. One way in which many educators are turning the school experience around for students is with Competency Based Education in which the conversation becomes one about student proficiency in competencies or skills that are meaningful and relevant to the lives they will lead as adults. Tony Wagner's Seven Survival Skills include, for example, collaboration, but how do we expect students to become effective collaborators without instruction and feedback on how to do so? While the goal should always be to prepare students for rigorous and demanding educational experiences, Competency Based Learning allows students to see the purpose, to have autonomy in their path and pace, and to feel the gratifying sense of achievement when they achieve proficiency in a competency or skill.
Social Emotional Learning
Emotional intelligence (EQ) is the capacity to blend thinking and feeling to make optimal decisions — which is key to having a successful relationship with yourself and others. Our goal as educators should be to guide and coach our students in developing effective self-awareness, tools, and skills to use when confronted with challenges in all areas of life. If we can help our students to be more self-aware and in touch with their patterns and their response to the events and work in their lives, we are providing them with a useful tool which will help them be more capable of solving the problems they encounter as they build purposeful lives. Teaching students to feel more in control of their decisions and reactions will support them as the directors of their own learning and working. The development of Emotional Intelligence is about how teachers can use neuroscience and emotions to create the most effective, inclusive and safe learning environments possible. The goal of this course is to provide you with a set of resources that will enable the creation of SEL integrated lessons as well as developing habits of mind to use in your daily life and work at school.
Equity and Belonging
For generations, education has been delivered in such a way that the stories and experiences of certain populations have been used as a lens through which to approach everything. Too often, this creates classrooms that do not feel safe or welcoming to all students, leading to a reluctance to take risks in the process of learning and growth. Teachers need to understand that in order to assist all students in reaching their Zone of Proximal Development for optimal learning, we need to create safe communities and build trust. This course will dig into some of the implicit biases that exist in our schools, ones based in class and gender roles embedded in our cultural backgrounds. Through exploring these ideas and their origins and influences, we will strive to build communities and learning experiences that acknowledge and validate all students while also setting expectations for independent learning.