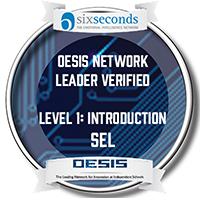 This Badge is awarded to a participant who has completed the OESIS Level 1: Introduction to Social Emotional Learning course, building the case for SEL using research-informed and experience-based background information about its implementation. 
For the teacher who has little understanding of what SEL is, its principles, structures, and pedagogy. 
Upon completion of the course, educators will have a good understanding of the pedagogical or curricular elements of SEL including exposure to content relevant to them in their specific department or division.
Learning Criteria
Module Titles